Did you know that only about half of all Native Americans are homeowners? This is a shocking statistic given that the Department of Housing and Urban Development (HUD) has a special loan program designed to provide greater flexibility for Native Americans who'd like to buy a home.
In this article, we'll discuss why Native people should consider using HUD-184 loans, even if they're eligible for an FHA or conventional loan.


Low Down Payment, Funding Fees, and Mortgage Insurance
When home buyers apply for a conventional mortgage, they often need to have a 5%-20% down payment. For many people, that's just not realistic. Fortunately, there are several government-backed programs that make homeownership possible for people who can't afford such a large down payment. FHA loans, for example, only require a 3.5% down payment.
That sounds pretty great compared to 20%, but HUD-184 loans have an even lower down payment. For loans over $50,000, borrowers only need 2.25% down. Loans under $50,000 only need 1.25%. Even if borrowers qualify for a conventional or FHA loan, the low down payment with a HUD-184 is a huge advantage.
The source of the down payment is also very flexible. You can use personal savings, a gift, or tribal assistance. When you apply for the loan, it's helpful to share with your lender the source of your down payment funds.
Another benefit of a HUD-184 loan is that it has lower mortgage insurance and lower funding fees than FHA loans. FHA loans, for example, have a 1.75% funding fee due at closing, while HUD-184 loans only require a 1.5% funding fee, which is rolled into the loan amount.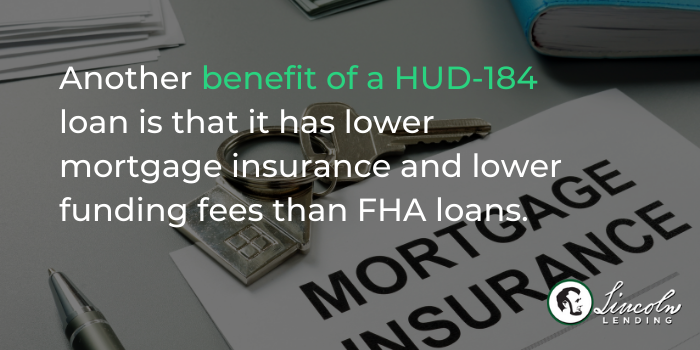 The monthly mortgage insurance is also lower for HUD-184. For example, the monthly mortgage insurance for a $100,000 house with an FHA loan is around $70 per month. HUD-184 mortgage insurance on that same $100,000 house would only be around $20.00 per month.
No Minimum Credit Score
There is no minimum credit score required to use the HUD-184 loans, however, your credit is still very important. Lenders do look at your credit history to determine whether you'll be able to handle the responsibility of homeownership and to determine your loan interest rate.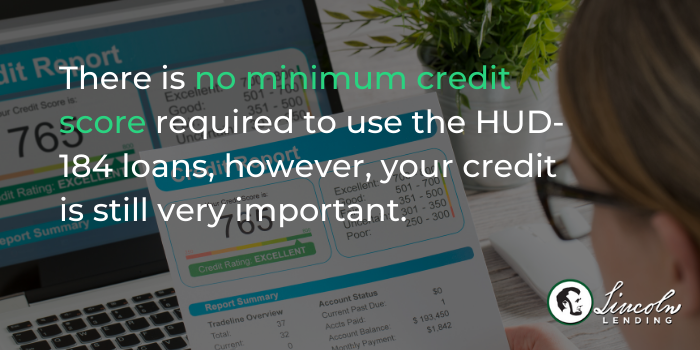 For example, a person with a 680 credit score will have a lower interest rate, which means a smaller mortgage payment, than someone with a 570 credit score. However, HUD-184 loans do make homeownership possible for people with past credit issues who have worked to improve their situation.
Some things to be aware of before applying for a HUD-184 loan are:
You cannot have any recent unpaid collections accounts. All collection accounts must be over a year old and paid in full.
You cannot have any late payments of 30 days or more and preferably no late payments within the past 12 months.
If you have a civil judgment or tax lien, you have to wait 12 months after the settlement before you can apply.
If you filed for bankruptcy, you must wait 2 years before you can apply.
If you owned a home that was foreclosed upon, you must wait 3 years after the foreclosure to apply.
Luckily, with some time and effort, nearly anyone can repair their credit. Our Loan Officers can help you understand your credit report and what you need to address before you qualify for a HUD-184 loan. Our goal is to help you get in the best financial position to be able to comfortably afford your home. Get in touch to schedule a Home Loan Coaching Session.
Where Can You Use a HUD-184 Loan?
In Oklahoma, you can use the HUD-184 loan to purchase a home anywhere in the state. The property does not have to be on a reservation to use this program. Other states have different rules, so if you live outside Oklahoma, check with a local lender about eligible areas.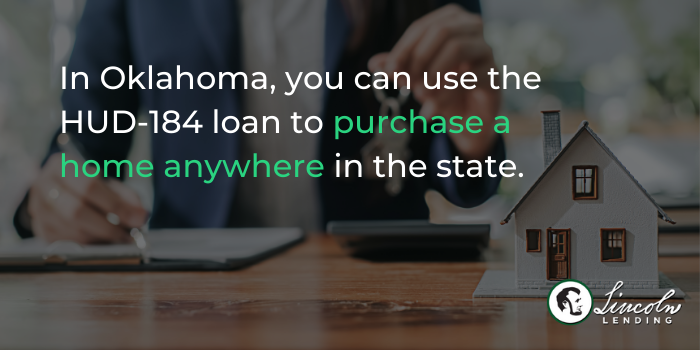 Who is Eligible to Use a HUD-184 Loan?
Any person who is a member of a Federally recognized tribe is eligible to use this loan program. You must have a Tribal Membership or Citizenship Card from a federally recognized tribe to qualify. This loan option is NOT reserved for first-time buyers, so all Native Americans who are members of a Federally recognized Tribe are eligible.
One unique benefit of the HUD-184 program is that only one of the people applying for the loan needs to be a Tribal member. That means that you can still qualify if your spouse is not a member of a Tribe, even if your spouse is the primary earner in your household.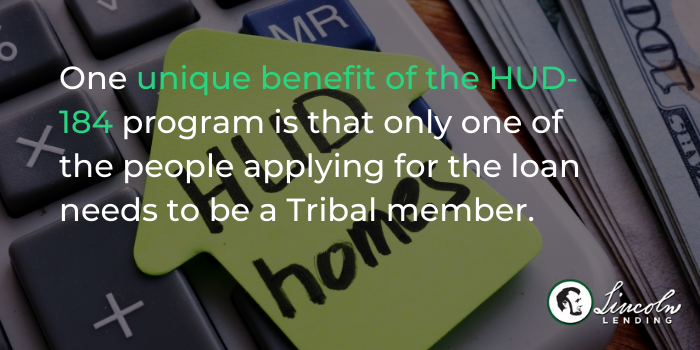 If neither you nor your spouse is a member of a Federally recognized tribe, we can still look at other loan programs that may be a good fit for you.
Buy, Build, or Renovate
Qualified borrowers can use HUD-184 loans to buy a home, build a home, or even remodel a home.
Most often, borrowers use this type of loan to buy an existing home. If you'd like to discuss using HUD-184 funds to build or renovate, please get in touch with one of our Loan Officers. There are pros and cons to each situation, and we'd be happy to help you decide which option is best for you.
Can I Refinance with a HUD-184 Loan?
Many home buyers use HUD-184 loans to refinance their existing mortgages. If you currently have an FHA loan, let's talk about refinancing it with a HUD-184 loan to get you better terms.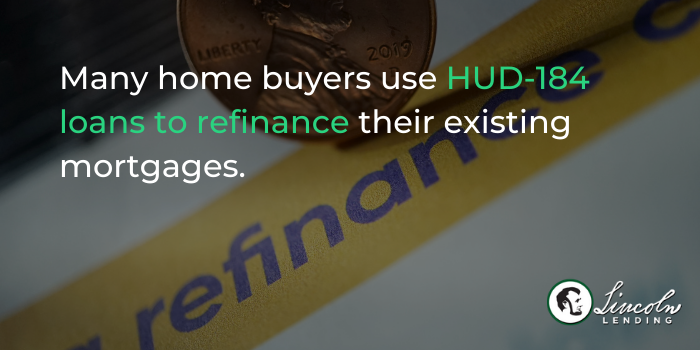 If you already have a HUD-184 mortgage but have improved your credit score since you initially took out the loan, we can also see whether you qualify for better terms with a new HUD-184 Streamline Refinance loan. Get in touch with one of our Loan Officers if you'd like to talk about refinancing.
How Long Does It Take, and How Do I Apply?
While Lincoln Lending can often tell you whether you prequalify for a HUD-184 loan within a few days, closing usually takes 30 - 45 days. This is because there are several documents that buyers need to provide to us, and other due diligence that we need to complete.
Buying a home is a big decision that you don't want to rush. For example, the home inspection process is an important step because it ensures that the home you'd like to buy is in a suitable condition.
Applying for a HUD-184 loan is similar to applying for any other loan. Your lender will look at your credit, your debt-to-income ratio, your assets (such as money in the bank or retirement accounts), how much money you plan to put down, etc.
You'll also need to provide tax returns for the previous two years and the last two pay stubs from each borrower.
Get Pre-Approved Today
HUD-184 loans are more flexible and have better terms than other loans, which is why they're a great option for Native American home buyers. If you think you may be a candidate for a HUD-184 loan, get in touch with us. You can either speak with one of our Loan Officers or fill out an online application to get pre-approved for your loan.