As a veteran, you have earned the benefits that come with a Veterans' Administration (VA) Home Loan. But how are the qualifications for a VA loan different from other kinds of loans?
VA loans are available to veterans in good standing. Rank does not matter. There are requirements about length of service. In general, these loans are an option when you've served 181 days during peacetime, 90 days during war time, or six years of service in the Reserves or National Guard.
VA loans are guaranteed by the VA and so have some advantages compared to conventional loans.
The minimum

credit score

for a VA loans is 580.

VA allows the highest debt to income ratio of just about any program. They have preferred parameters of 29/41, which means lenders want your overall housing costs to be less than 27% of your gross monthly income, and your mortgage payment plus monthly debts to be less than 41% of your gross monthly income. The VA can sometimes allow much higher ratios in certain situations. We have seen ratios in the 60+ percentile get approved if they buyer has excellent credit and plenty of liquid cash reserves.

Past transfers from duty station to duty station do not affect eligibility.
Even if the debt to income ratios are in-line, the VA also looks at residual income. This is how much money left over after bills, including gas, water, electric, daycare, etc. They have set amounts of money a person must have left over in order to qualify for a loan. This can impact military families with expensive day care payments and not a lot of income.
The cash needed at closing is also somewhat different than a conventional loan. There is no down payment required for a VA loan if you stay under the loan limit for your area. A Funding Fee charged by the VA is added to the loan amount. You don't have to pay it out of pocket.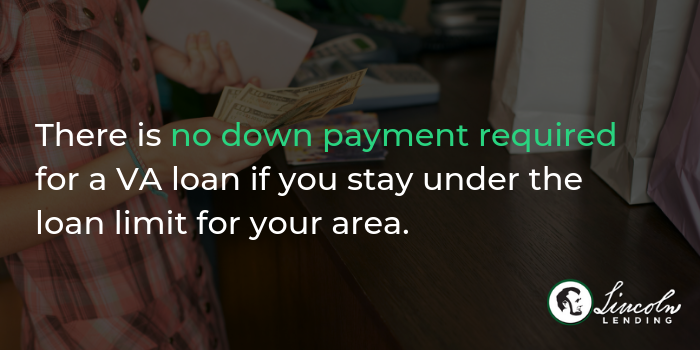 You will need money for closing costs and prepaids, such as title fees, taxes, insurance, etc. If you don't have enough money for closing costs and prepaids, this can often be negotiated into the purchase contract. Sometimes the seller pays most, if not all, of the buyer's closing costs. This means a VA buyer could get a home with very little to no money. Your lender can help figure out if this is possible depending on each individual situation.
The first step in buying a home is getting pre-qualified with a lender.
If applying for a Veteran's Administration (VA) loan, you'll want to get a Certificate of Eligibility. This is a confirmation from the Veteran's Administration that the borrower has met the minimum requirements for VA loan eligibility. Your lender can help with this. To learn more, please go to https://www.benefits.va.gov/homeloans/purchaseco_certificate.asp.
Then talk with your lender and fill out a loan application. This can be done by scheduling an in-person meeting, phone call, filling out an online application or a combination of the three. The lender will discuss your credit/credit score, debt to income ratio, costs, down payment, loan options, etc.
Generally, a person can be prequalified within an hour or so, although it may take longer in certain situations.




Many veterans are surprised to learn home ownership is within reach. A good first step is to talk with a mortgage lender to see if you would qualify for a VA loan. While the lender can't legally give specific financial advice, Lincoln Lending (NMLS # 398026) has an experienced team that can review your information and discuss options. We offer a no-cost, no-obligation coaching session to help you make wise choices about home ownership. To schedule a session, please call (405) 799-5363 or email us at info@LincolnOK.com.