One of the most important considerations in buying your first home is whether or not it makes sense financially.
Online mortgage calculators don't typically include taxes, insurance or PMI (Private Mortgage Insurance), so they can mislead buyers into thinking a monthly payment for a $100,000 house is only $500-$600 per month. In reality, the total monthly payment would be closer to $800-$850 when including these expenses.
While every case is different and Lincoln Lending can't give official financial advice, a good general rule is to keep your monthly housing payments under 30% of gross income. However, monthly expenses include more than the cost of repaying the loan. It's also important to plan for insurance, taxes, utilities, and maintenance.
Careful financial planning can help make your dream of owning a home become a reality.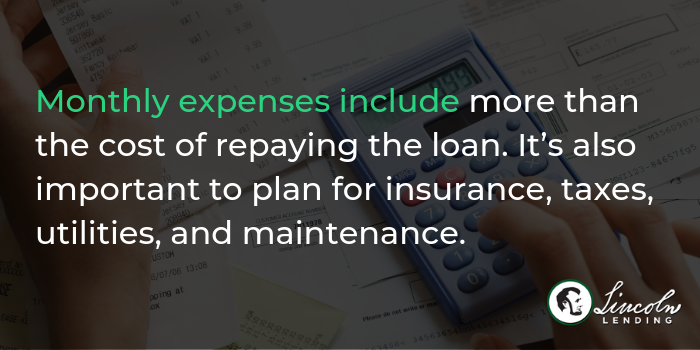 Starting to look into purchasing your first home?
Download the First Time Home Buyer Checklist now
What Is A Safe Monthly Payment?
A "safe" monthly payment is determined by your "debt to income ratio" or DTI. A healthy ratio for most clients is 27/41. You may hear the phrase "27 on the front-end and 41 on the back-end."
This means lenders want your overall housing costs, including mortgage payment, taxes, insurance and Private Mortgage Insurance (PMI), to be less than 27% of your gross monthly income. This is the front number of the ratio.
The back-end ratio of 41 means lenders want your mortgage payment plus your monthly debt payments to be less than 41% of your gross monthly income.
For example, if you make $3,000 per month in gross income, your monthly mortgage payment should be $810 or less. Your total monthly debt payments, including your mortgage, should be $1,230 or less.
The DTI of 27/41 is a good target, but these numbers can be increased depending on the credit-worthiness of the buyer.
The amount of your down payment will also impact your mortgage payment. The higher your down payment is, the lower your loan amount and monthly payment will be.
If you put 20% down, you can avoid being required to purchase Private Mortgage Insurance (PMI). PMI is an extra premium added to your mortgage payment. If you put less than 20% down, then you will have to pay for PMI.
Each loan program has a minimum down payment. The amount can range from 0% to 20% down. Most people should expect to spend around 3%-5% for their down payment.
How Does the Length of Your Mortgage Impact Monthly Expenses?
A 30-year mortgage typically has a higher interest rate, but the monthly payment is lower.
A 15-year mortgage usually has a lower interest rate, but the monthly payment is higher.
A higher monthly payment means your debt-to-income ratio increases, which makes it more difficult to qualify for the 15-year mortgage.
With everything being equal, the monthly payment on a 15-year mortgage is usually around 40% higher than the 30-year mortgage. However, you will spend much less in interest over the long term.
What Insurance is Required?
Mortgage Insurance is usually required if you put less than 20% down. The monthly premium for Private Mortgage Insurance (PMI) varies depending on the loan program, credit score, amount of loan, etc. You can generally expect this to be between .3% to 1.5% of your loan amount per year.
For example, the Federal Housing Administration (FHA) currently charges 0.85% per year when getting a 30-year loan. So, a $100,000 loan x 0.85% = $850 per year, which is $70.83 per month.
Homeowners insurance will always be required when obtaining a mortgage. This can vary widely depending on the borrower's insurance "score", property, value of property, zoning, etc.
To give you a very general estimate, allow about $1 per thousand dollars of your home loan. For a $100,000 house, you could roughly estimate about $100 per month.
Flood insurance can be required if your house is within certain FEMA (Federal Emergency Relief Administration) zones.
Lenders will obtain a "flood certification" that shows if the home is located in a flood zone. It would be best to talk with your property & casualty insurance agent about options and requirements.
Some homeowners choose not to carry flood insurance because they are not in a designated flood zone. Others want insurance because they are close to a flood zone or have a nearby creek that could potentially overflow and flood their house.
Earthquake insurance should be discussed with your property & casualty insurance agent, especially if earthquakes are common in your area.
Is There a Way to Estimate Utility Costs?
Utility costs will vary depending on the size and age of the home, energy efficiency, etc. You can contact your utility company and ask them for an estimate for particular homes. Friends and family that have similar homes may also be able to help you estimate these costs.
How Much Should I Set Aside for Home Maintenance?
Owning a home means you are responsible for maintenance and repairs. You'll want to set aside money for a water heater that breaks or a backed-up sewer line.
A general guideline is to set aside 1% of the value of your home each year for maintenance. If your home is valued at $100,000, keep at least $1,000 per year on hand for home maintenance.
What Other Expenses Should I Consider?
If this is your first home, you will need to consider the cost of setting up the house. Will you need to buy dishes, silverware, furniture, cookware, curtains, trash cans, shower curtains, towels, etc.? You will want to also think about outdoor maintenance items like garden hoses, rakes, or a lawnmower.
When you are deciding on a home, keep an eye out for structural repairs that may be needed.
Will you have to cut overgrown tree limbs?
Will you need to repair or buy fencing to keep pets in the yard?
We definitely recommend a move-in ready home for first time buyers, unless you have construction experience or plenty of disposable income available to make major changes to a home that needs immediate work.
It is also a good idea to talk with your tax advisor about mortgage interest deductions and capital gains.
There Are a Lot of Variables. How Will I Know if I Am Ready to Buy a Home?
It is never too early to make a plan.
It is a regular process for us to meet with clients up to two years before they think they will be ready to buy so that we can create a plan together. We would love for you to consider us your home loan coach!
Home loans are the most difficult type of loan to get, so we usually advise clients not to buy expensive cars, motorcycles, boats, etc., until they have their home loans. Once they have the home, then they can get the "toys."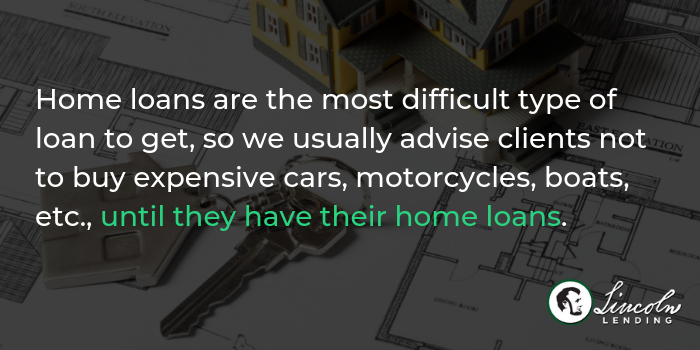 It's also important to save as much money as you can.
Even if you don't need much for a down payment, your loan application will always be stronger if you have at least a little money in the bank. This can also help with initial home expenses, repairs and maintenance, or a higher down payment to lower your monthly premiums.
We're happy to schedule a no-cost, no-obligation coaching session to work on a game plan with you. We prefer to meet in person, but also regularly talk by phone or email. To schedule a meeting, please call Lincoln Lending (NMLS 398026) at (405) 799-5363 or email us at Info@LincolnOK.com.
Many people are surprised when they realize home ownership is within reach. By carefully thinking through the potential costs, you can feel confident in making a decision about the home investment that is right for you.