If you are self-employed or own your own company, then your business history and assets will play a role in your ability to qualify for a home loan. Careful planning now can help you prepare for your future home purchase. In this article, we'll share our best tips for entrepreneurs.
1. Register Your Business Early
The "start date" for your business begins when you register it with the Secretary of State. Why does your start date matter? Lenders require that you provide income and tax documentation to prove that your business has been in operation for at least two years before you are eligible for a home loan. The longer you wait to officially register your new venture with the Secretary of State, the longer you'll have to wait to qualify for a home loan.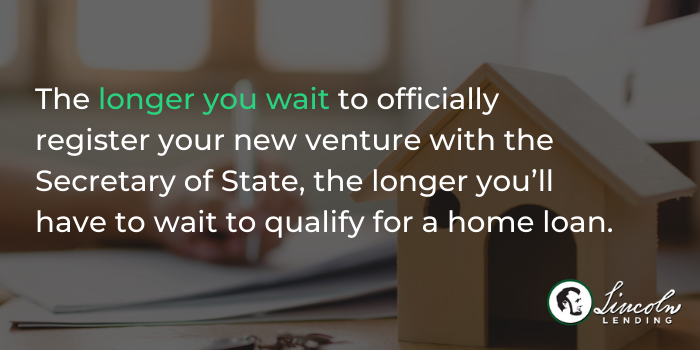 2. Operate at a Profit
Business owners often write off a lot of expenses to reduce their tax burden. Speak with your tax advisor and a home lender before writing off too much because doing so can lower your net income. Lenders will scrutinize your finances when deciding whether to approve your loan, and a low net income makes it very difficult to secure a loan.
When you are self-employed, a lender will look at the past two years of net income rather than gross income. To qualify for a loan based on gross income, you must be a W-2 employee with no more than 25% ownership in the business where you work. Also, there are stricter rules if you work for a family member. Typically you will need more money down and/or a longer work history.

3. File and Pay Taxes
It seems obvious, but you must have filed and paid your business taxes for the most recent two years before applying for a home loan. If you haven't paid your taxes, then you must put a payment plan in place with the IRS. Alternatively, you could repay your outstanding taxes before applying for a loan.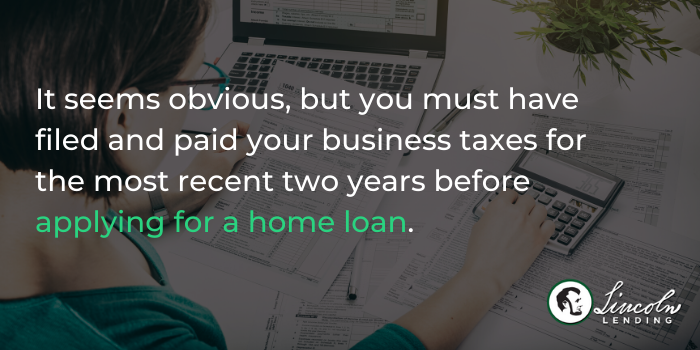 If you transition your company from Schedule C to an S-Corp, it is usually best to retain the same company name. Some loan programs have rules that if you switch company type and name, then your two-year income history starts over. Before undergoing any drastic business organization changes, consult your lender and tax advisor.
4. Apply with a Spouse or Co-Signer
Having a co-signer or spouse can improve your chances of qualifying for a home loan.
A co-signer may help improve your debt-to-income ratio. If everything else looks good but you have an issue with income or too many write-offs, a co-signer could make the difference between qualifying and not.
Keep in mind that a co-signer will technically and legally be a co-owner of your home. You cannot sell the property without the co-signers permission. The property could also count as an asset for the co-borrower. Your home could be seized if the co-signer is sued or files for bankruptcy. Late mortgage payments on your part could negatively affect your co-borrower's credit as well as your own. Consult an attorney and weigh the pros and cons before choosing a co-signer for your home loan.
Alternatively, if your spouse has all the business debts in his/her name and is NOT listed on the loan application, then those debts will not be included in the lender's eligibility calculations. However, if you are applying for the loan together, then all of that debt will be included in the lender's calculation.
Explore Your Options
Planning well in advance of your home purchase is especially important to a business owner. Your business decisions could have a significant impact on your personal finances.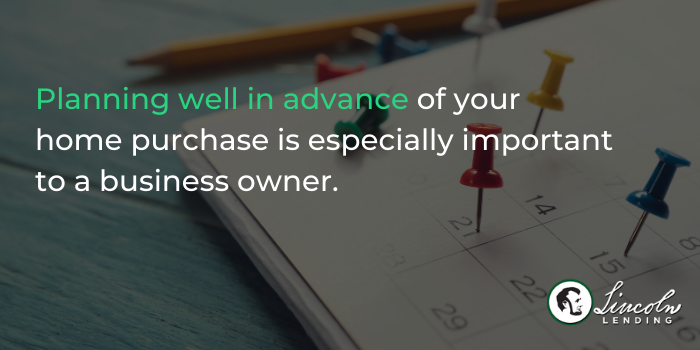 Your first step should be to speak with a home loan coach about your purchase timeline and steps that you should take to prepare financially. Lincoln Lending's team (NMLS 398026) can discuss your personal and business plans and guide you through the process. We are glad to offer a no-cost, no-obligation coaching session to review your situation and options. To schedule a meeting, please call (405) 799-5363 or email us at info@lincolnok.com.