Did you know that just one inch of floodwater can cause more than $25,000 in damage to your home? Water can be shockingly destructive, but don't panic! There's a simple way to protect your home and belongings from a flood: purchasing flood insurance.
Why should you buy flood insurance?
Many homeowners are surprised to learn that their homeowner's insurance policies do not typically cover flood damage. To get flood damage coverage, you will have to purchase separate flood insurance.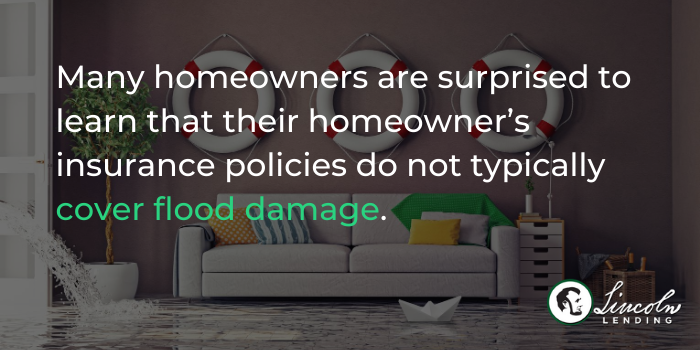 You may wonder if it's really worth the extra cost. In our opinion, depending on the cost for your home, flood insurance can often be a relatively small price to pay for your peace of mind.
Some key reasons to consider flood insurance include:
That there's a risk of flood, no matter where you live. Even if your community has never flooded before, poor drainage systems, melting snow, and construction can all contribute to a potential flood in the future. According to

FEMA

, people outside of high-risk areas file 20% of all flood insurance claims.
If you live in a zone with a low flood risk, your insurance cost is actually lower than if you live in a high-risk zone. So, in this case, you can have peace of mind without breaking the bank.
Flood damage tends to be catastrophic. According to FEMA, floods are the most common and costly natural disaster in America, and they cause billions of dollars in damage each year. Flooding doesn't have to be extensive to cause damage — even just a couple inches of water can cause huge issues. Without flood insurance, you are left to cover the cost of renovations and damages on your own.
Am I required to have flood insurance?
No matter where you live, there is some flood risk; it's just a question of whether you live in a low-risk, moderate-risk, or high-risk area. These areas are indicated on your community's flood map. Each flood zone describes the particular flood risk for that area, and these zones help to determine insurance requirements and costs.
You are required to purchase flood insurance if you have a property in the high-risk zone and have a federally backed mortgage. While flood insurance is not federally required if you live outside of a high-risk area, your lender may still require you to have insurance.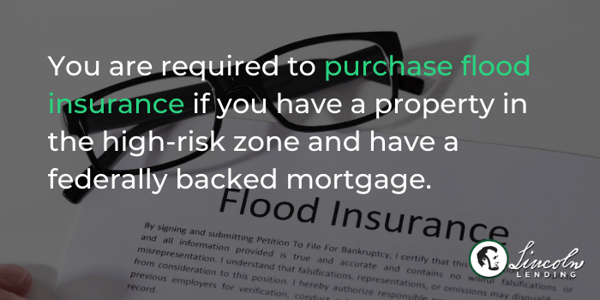 How do I figure out what flood zone I'm in?
The good news is, figuring out what flood zone you are in is easy! All you have to do is enter your address, place, or longitude/latitude coordinates into the FEMA Flood Map Service Center.
What do the letters on the FEMA flood maps mean?
When you look at the FEMA flood maps, you'll notice some different letters that designate the different flood zones. Moderate to low-risk flood zones are designated with the letters B, C, and X. In these areas, the risk of flooding is reduced, but not completely gone. High-risk flood zones are designated with the letters A or V, and these areas face the highest risk of flooding.
What is covered and not covered by flood insurance?
In the event of a flood, what items do you want to have protected by insurance? Do you just want the structure of the home protected, or would you like your belongings protected as well? No matter what you want to have protected, it is important to understand what flood insurance does and does not cover.
Building property flood insurance (for your home) covers items like electrical and plumbing systems, foundations, walls, carpet, and appliances. Personal property flood insurance (purchased separately) covers items such as furniture, clothing, and artwork.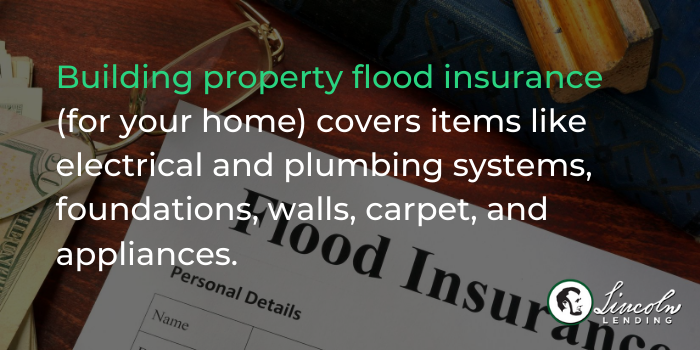 Flood insurance doesn't cover everything. For instance, flood policies do not cover damage to your home caused by mildew, moisture, or mold that could have been avoided. Damages caused by the movement of the earth and additional living expenses are also not usually covered.


How much does flood insurance cost?
The cost of your flood insurance varies based on your home, state, and a few factors, including:
Coverage type (federal or private)
Age and build of your home
Location and flood zone
In Oklahoma, the average flood insurance premium is about $871 per year.
Are there different types of flood insurance?
Not all flood insurance is created equal. There are actually two types: The National Flood Insurance Program (NFIP) and private flood insurance.
The NFIP gives homeowners access to federal flood insurance, and the policies are available for anyone living in moderate to low-risk areas or high-risk areas. Homeowners can purchase NFIP policies directly from an insurance agent who writes and services them. Keep in mind though that there is a 30-day waiting period from the date you purchase the policy until your policy goes into effect.
Private flood insurance still covers the same items that an NFIP policy does, but it does not receive any support from the federal government. Instead, private flood insurers rely on a reinsurer or money from premiums to pay out any flood damages. In terms of a waiting period, private flood insurance, usually, only takes 25 days to take effect.
More questions about flood insurance?
Even a few inches of water can cause significant damage, so flood insurance is a smart way to protect your property, no matter where you live. If you still have questions about the pros and cons of flood insurance, we'd be happy to recommend a trusted insurance agent, so please get in touch.