When buying your first home, it's important to think about the initial expenses like the mortgage, closing costs and moving expenses. But it's also important to prepare for the ongoing responsibilities of home ownership.
Financial Considerations
These include:
Property Taxes – These vary by city and county. In general, you can estimate $1 per $1,000 of house value. For example, property taxes for a home valued at $200,000 should be roughly $200 per month.

Insurance - Homeowner's or Hazard Insurance insures your home against damage from tornadoes, storms, hail, fire, etc. Flood Insurance is required if the home is in a FEMA (Federal Emergency Management Agency) flood zone. Even if your home is not in a flood zone, remember that most Homeowner's policies do not cover floods or rising water. Earthquake Insurance is optional in Oklahoma. It's a good idea to speak to your insurance agent about costs and coverage for these types of insurance.

Homeowner's Association Fees – Some neighborhoods are called Planned Unit Developments (PUD). This means they have a Homeowner's Association (HOA) that maintains the grounds and common facilities. These costs are then passed on to homeowners through membership dues or fees. Some are $0 and some can be several hundred dollars per month. Be sure to see if the neighborhood has HOA fees before buying.

Increasing Your Mortgage Payment - If it fits your budget, paying extra toward the principal on your mortgage each month can shave years off your loan. For example, let's say you own a $200k house with a 30-year mortgage and an interest rate of about 5%. If you pay an extra $100 per month, you can pay off your loan around five years earlier and save money on interest payments.
Want to make better choices along your path to purchasing a home?
Download the Home Loan Toolkit now
Maintenance Considerations
A home inspection can save you money and headaches by identifying possible maintenance issues before you buy a home.
While they are not required, home inspections are always a good idea. A trained home inspector will check the home's interior and exterior. They give you a detailed report of items they believe need attention. This could be anything from a loose doorknob to foundation repair.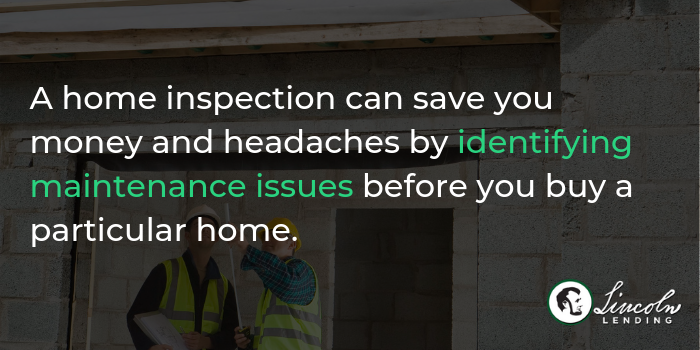 Home inspectors are human and don't catch everything. But they do identify issues that the home buyer may not see. If they identify a potential problem outside their expertise, they will often recommend another inspection by a professional. For example, if they see possible roof damage they can recommend further inspection by a roofing company.
Home Improvement Considerations
Before closing on your new home, think about the cost of appliances, window coverings and other items you may need to replace.
If you are looking at an occupied home, many of the items you see will be gone when the seller moves out. If an item is not attached, it is usually not part of the purchase unless specified in the contract. For example, the curtain rods will probably stay, but the window coverings may not.
Most loan programs require a "working kitchen", which means the house will nearly always have a working stove. Some houses come with refrigerators and some do not. Washers and dryers generally do not come with a house. Be sure to discuss appliances and other removable items before making an offer.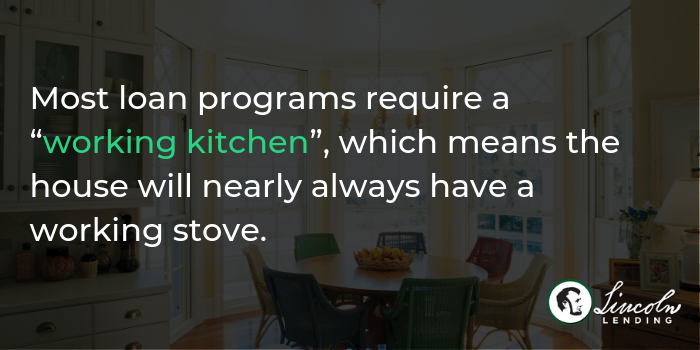 Also think about exterior items like your fence, pool or storage shed. If any of these need repair, build that into your budget planning.
If house is in serious need of repair, you often can't get a home loan until the seller fixes it. There are some loan programs that allow for renovations as part of the purchase. These are complicated and have extra rules that should be discussed with your lending professional.
Lifestyle Considerations
If you have been living with parents or in a rental property, home ownership will come with additional time commitments but also lifestyle benefits.
Depending on the home, you may need to paint wood siding and trim every four to 10 years. Vinyl siding is usually warranted to last 20-40 years before replacement. If you buy a home with paint or siding issues now, it is a good idea to get a painting or siding replacement quote because you will probably have this expense soon. Brick homes require less exterior maintenance, but they usually have siding and eaves that need to be painted every five to 10 years. Also plan for lawn care, trimming hedges, caring for flower beds or vegetable gardens, etc.
When you leave a rental property, you also leave the convenience of having a maintenance team on call. Home repairs can be costly unless you have a friend that is a handyman or you enjoy Do It Yourself projects and repairs. If you aren't handy, saving money for maintenance is a good idea. To find help with home repairs, get recommendations from neighbors, friends and family. Lincoln Lending also has a network of recommended professionals that can help.
But despite all the responsibilities, home ownership also brings tremendous advantages:
The joy of home ownership – You have a place to call your own. You can design your home the way you want it and customize it to your lifestyle. For example, many people specifically love the convenience of doing laundry at home instead of carrying baskets to the public laundromat.

Tax benefits - Mortgage interest is deductible and could help you with tax savings.

Space – You will generally have more room than in an apartment, and a yard for privacy or play space for the kids. There will probably be more room for storage, and you may have a garage to protect your vehicles.
Home ownership comes with responsibilities, but also has many advantages. With a little planning, you can be confident in your home purchasing decision. Every situation is different and Lincoln Lending (NMLS 398026) cannot give financial advice. But we do have an experienced team who can talk with you about your plans and see if home ownership is right for you.
We would be happy to schedule a no-cost, no-obligation coaching session to review your specific situation and the options available. To schedule a session, please call us at (405) 799-5363 or email us at info@lincolnok.com