After all of the work, the long hours, and missed vacations, your business is finally thriving! Now, you're ready to reward yourself for the sacrifices you and your family have made.
What Should You Buy First?
Now that you have some financial wiggle room, you're probably itching to upgrade your life a little. If you are considering purchasing a home, it may be wise to do so before buying a boat, motorcycle, or luxury car. Buying a home is a much larger financial commitment, but it's often more difficult to secure a home loan if you're making monthly payments on smaller luxury purchases.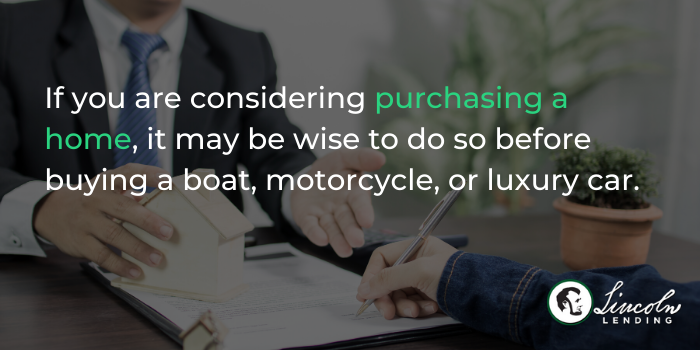 Most non-essential items — or "toys" — are easy to purchase with no money down. Usually, you have the keys in your hand within just a few hours. The gratification is quick and sweet.
On the other hand, it typically takes 30-45 days to complete a house purchase. There are also much more strict rules about the size of your down payment, an acceptable debt-to-income ratio, your minimum credit score, and more. Purchasing a home takes much more financial planning, plus quite a bit of shopping around to find the best mortgage option.
The Downside of Buying Toys First
Your monthly payments on non-essential items like boats, jet skis, RVs, or motorcycles reduce your financial liquidity, which reduces your income. Lenders don't assess the value of all of your assets when determining your loan eligibility; they assess your liquidity and ability to make your monthly mortgage payment.
Usually, the lender will want to see financial reserves that will cover at least two months of PITI (principal, interest, taxes, insurance). In some instances, you need at least six months of financial reserves (i.e. buying an investment property).
Owning toys is fun, there's no denying it, but they can hinder your ability to secure a mortgage with a favorable interest rate. You may have to pay off your non-essential items to restore your income level and qualify for a better loan.
Hold Off on the Non-Essentials
If you purchase a home first, you'll benefit from predictable, reasonably stable monthly expenses. You'll know how much you need for utilities, insurance, taxes, and maintenance, which are hard to calculate accurately before actually living in your new home. Once you know the average monthly cost of owning your home, you can decide how much is still available to spend on other items on your wish list.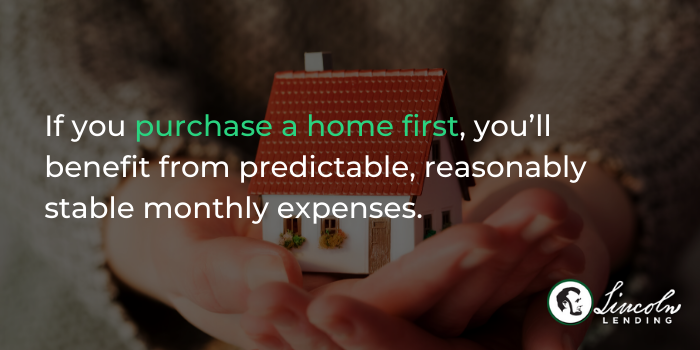 When you've worked hard to build a thriving business, it's worth taking some time to plan your lifestyle changes. If you intend to purchase a home within a few years, it may be in your best interest to secure your home loan before spending money on non-essential luxury items. Since they are smaller and have less stringent loan terms, you can always purchase a new car after the house.
Not sure where to start your planning? While a lender can't give specific financial advice, he or she can act as a coach for your home purchasing timeline.

Lincoln Lending's team (NMLS 398026) can talk with you about your personal and business plans and guide you through the process of applying and qualifying for a home loan. We are glad to offer a no-cost, no-obligation coaching session to review your situation and your available options. To schedule a meeting, please call (405) 799-5363 or email us at Info@LincolnOK.com.