Life in the military can be exciting and challenging at the same time, especially when it comes to the frequent moves. If you may be moving in the next few years, does it make more sense to rent a home or take advantage of a Veteran's Administration (VA) Home Loan and purchase your own?
Many military members find that buying a home can be beneficial, even if you may need to move in the next few years. Monthly mortgage payments may be lower than paying for a comparable rental property. You are also building equity to help you with future purchases.
If you do buy a home and are then transferred, you could sell the house or keep it as a rental property. Keep both options in mind as you work with your real estate agent to research the market in the area where you're considering buying. A house near a military base could have great potential as a rental property if you moved. A house in the country might not be a good potential rental.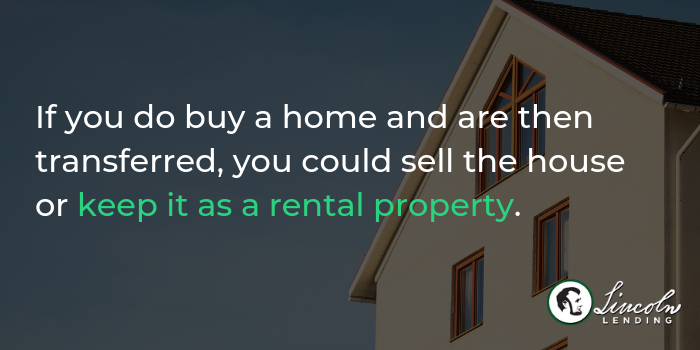 Selling Your Home
In general, real estate values tend to increase over time. This means you could benefit from market appreciation if you do have to sell your home. Choose a home at a price point that will make it easy to sell if needed.
If you purchased your home using a VA loan, you can still get another VA loan for your new home, however:
You must be moving from one primary residence to another primary residence.
The loan amount will vary based on how much eligibility you have left with the VA. If you sell your home, you would have full eligibility for the next house.
VA loans may be assumable for the person buying your home, but there are pros and cons to this. Be sure to talk with your mortgage lender about all of your options.



Keeping Your Home as a Rental Property
Many people in the military prefer to keep the house as a rental property for ongoing, additional income, however:
If there are months when the house is not rented, be sure you can still afford the

mortgage

payment and maintenance expenses plus your new mortgage payment.
Because a VA loan for your new home would not require a

down payment

, you could then keep your cash reserves handy for problems with the rental property.
The rental home will count against your overall eligibility for a new VA loan. However, you may still qualify for bonus eligibility if the new home costs more than $144,000.
Remember that you may have problem renters that will require your time and money. It may be necessary to handle repairs or evict a tenant. Each state has its own eviction procedures. Oklahoma requires certain notifications be made to the tenant and you may be required to appear in court. Property managers can alleviate the time you would otherwise spend managing the home yourself and they are usually experts at evictions, etc.




While it may be a little intimidating to consider purchasing a home when you know you may have to move in a few years, it is often a better option than renting.
At Lincoln Lending (NMLS # 398026), we have an experienced team that can talk with you about your plans and whether or not you would qualify for a VA loan. We offer a no-cost, no-obligation information session to review your specific situation and available options. To schedule a session, please call (405) 799-5363 or email us at info@LincolnOK.com.