As a veteran, you have earned the benefits of a Veterans' Administration (VA) Home Loan. But is a VA loan the right choice for you?
Advantages of a VA Loan
One of the primary advantages is that no down payment is required for a VA home loan. You have the option of making a down payment if you want to lower your loan principal or monthly payment, but it is not required. Other VA loan advantages are:
No monthly

Private Mortgage Insurance (PMI)

is required because your loan is guaranteed by the VA.
Interest rates for VA loans are typically competitive with other loan programs and often better than

conventional loans

. However, it all depends on your individual situation.
There is a

Funding Fee

required for VA loans. The fee is paid to the VA to help offset the costs of a VA loan guarantee. However, much of this cost is offset by the fact that you don't have a down payment or PMI. This fee is also waived if you are a disabled veteran.




Advantages of a Conventional Loan
If you have a great credit score and have saved enough money to make a 20% down payment, then a conventional loan may be a better option. Additionally, you can only use a VA home loan to purchase your primary residence. Conventional loans are often better for a second home or investment property.
Your lender can review both programs with you to help you make an informed decision. When you meet with a lender, you can review your information and prequalify for a loan. Your pre-qualification will help you determine how much you can afford to spend on a home before you begin your home search.
Most lenders can also use an automated system to get your Certificate of Eligibility for a VA loan. If the automated system doesn't generate a certificate, then veterans can go online to the VA portal and follow the process to obtain the certificate themselves.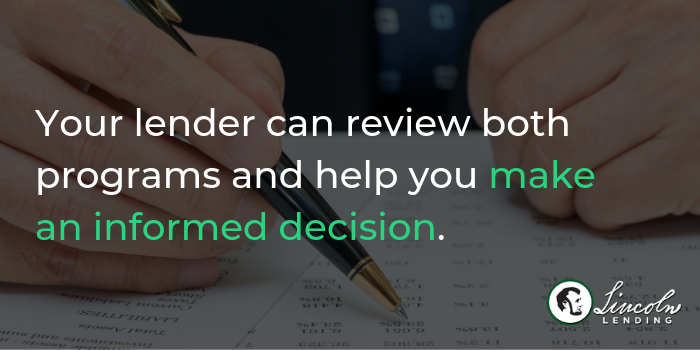 There are multiple types of loans available to veterans. The VA home loan offers significant advantages in many ways, but it may not be the best choice for everyone.
Talk with a mortgage lender about your options. While the lender can't legally give specific financial advice, Lincoln Lending (NMLS # 398026) has an experienced team that can review your information and discuss the alternatives available to you. We offer a no-cost, no-obligation coaching session to help you make wise choices about home ownership. To schedule yours, please call (405) 799-5363 or email us at info@LincolnOK.com.