You have done your research and decided it's time to buy your first home. You are at a place in your life when you think it will be a good financial move and you are ready to make this investment. So, what are the next steps?
Step 1 - Prequalifying for a Home Loan
It is fine to look at homes online or drive around to check out neighborhoods. But your first step should be getting prequalified for a home loan. This can help you in several ways:
You can find out the estimated monthly payments and other costs to determine how much you can afford to spend on a home.

The prequalification process will help you narrow your search to homes you can comfortably afford. Or it could expand your options because you may qualify for a larger loan than expected.

Realtors prefer showing houses to people that are prequalified. They want to know they are not wasting their time and that you are indeed able to buy.
The realtor and seller will take you more seriously if you have already been prequalified by a reputable lender. Sometimes this can even help with negotiations on the home itself.
You can check for any problems with your

credit score

, work history, etc., that would impact your ability to qualify for a loan. By talking to the lender first, you have time to gather more information or make changes to improve your opportunities in the future.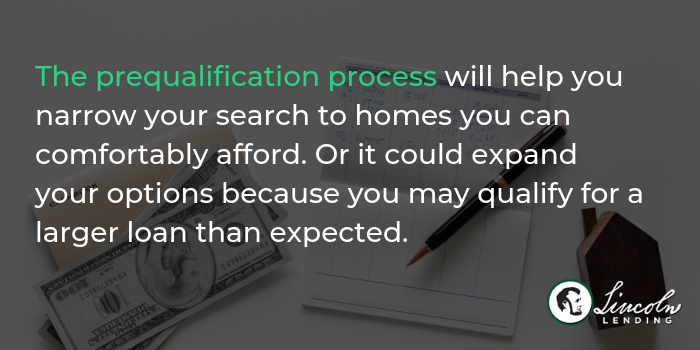 With Lincoln Lending, you can apply with a lender in person, over the phone (405-799-5363), or online at info@LincolnOK.com. We need your name, date of birth and social security number. We also need a two-year address history and two-year work history. This allows us to verify your credit history and score, income, debts, assets, work history, rental history, etc. There is no cost or obligation for this initial meeting.
If you think you want to buy a home within the next couple of years, it doesn't hurt to go ahead & get prequalified now so you can plan for the future. When you are about 60 days away from a potential purchase, we can update your information for a final prequalification.
Ready to get started on purchasing a home?
Click here to Speak with a Home Loan Specialist
Step 2 – Find the Home You Want
You can do preliminary searches online and then contact a realtor, who can then begin reviewing your needs and showing you properties. Realtors typically have access to more homes via the Multiple Listing Service (MLS) than can be found on the internet. When you find the home you want to purchase that meets your preapproved loan guidelines, you will sign a contract. Your realtor and lender will then guide you through the next steps.
Step 3 – The Purchase Process
A home inspection is not required, but is recommended. It is a good idea be present for the inspection, so you can see any problems with the house and go ahead and start thinking of things you would like to update or improve.
The lender will have you sign disclosures and will outline the terms of the loan, interest rate, estimated costs and estimated

prepaids

. You will be asked to do some "homework" for the lender. This may include gathering W2 forms, paystubs, bank statements, tax returns, insurance agent and landlord contact information, etc.
The lender will verify your information and order an

appraisal

on the home. An official appraisal gives the lender an unbiased value of the property as loan collateral.
The lender also works with with the title company to ensure your home purchase will be a legal and problem-free transfer. They will do a title search to verify there are no problems that could delay the sale. They will help with

title insurance

,

escrow

and

closing

.
Then the lender pulls everything together for

underwriter

. The underwriter verifies everything submitted meets regulations and officially approves your loan. The underwriter checks for any final documents needed to complete any gaps in the file.
Finally, you will schedule a closing date. Loan terms and rates can be locked in by the lender. Most lenders can lock interest rates from 15-60 days. Lincoln Lending can lock rates up to 180 days under certain circumstances.

When your closing date is confirmed, it is probably a good time to schedule movers, contact utility companies to change your service, etc.

You don't want to move into a dark house with no heat/air or internet!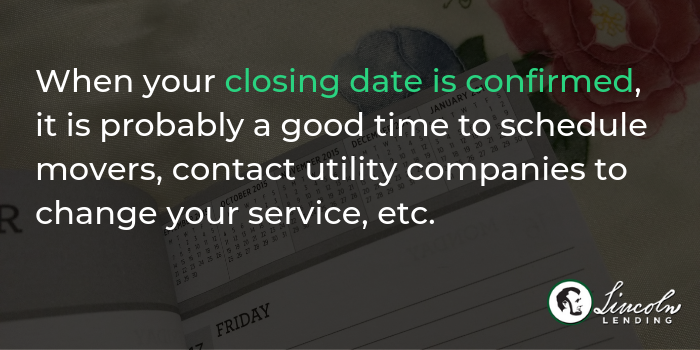 Step 4 - Closing
On closing day, all parties involved meet at the title company to review and sign papers that explain the mortgage, note and other documents. This is when you officially transfer ownership of the house.
Cash required – Talk to your lender about the cash that will be required a closing. It varies based on the type of loan, down payment, insurance, taxes, etc. Also ask if you can use personal checks or if a certified / cashier's check is required. Most Title companies require a certified / cashier's check or a wire transfer from your bank to the Title company's bank.
Most of the documentation has already been provided at this point. You will usually just need money and two forms of ID for anyone who will be signing on the loan. If you are married, your spouse must be present and sign a few forms, even if they are not on the loan.
Step 5 – Move In and Enjoy Your New Home
A home purchase has many moving parts. Meeting with your mortgage lender well in advance can help you plan for a smooth home buying process. While the lender cannot legally give specific financial advice and every situation is different, we can serve as your "coach" to help you prepare. We will walk you through each step to make the home buying process a smooth one.
Lincoln Lending (NMLS # 398026) has an experienced team who can talk with you about your plans and guide you through the process. We are glad to offer a no-cost, no-obligation meeting to review your specific situation and the options available. To schedule a meeting, please call (405) 799-5363 or email us at info@lincolnok.com.