You're a veteran and are ready to buy a home. You are at a place in your life when you think it will be a good financial move and you are ready to make this investment. What are the next steps to explore a VA (Veterans Administration) home loan?
Prequalifying / Preapproval
VA loans are an earned benefit for military service. They are available to Veterans in good standing or surviving spouses.
To begin the process, go online to https://www.benefits.va.gov/homeloans/purchaseco_certificate.asp and request a Certificate of Eligibility. Your lender can also help you obtain one. This verifies that you meet the service requirements for a VA loan.
Then talk with a lender to get prequalified. This will help you understand how much your loan could be so you can begin planning your home purchase price range.
The lender will review your specific situation, like debt, employment history, credit score, etc. VA loans require a minimum 580 credit score.
VA loans do not require a down payment or Private Mortgage Insurance (PMI). There are loan limits similar to conventional loan limits. Currently the maximum loan amount with no down payment is $484,350.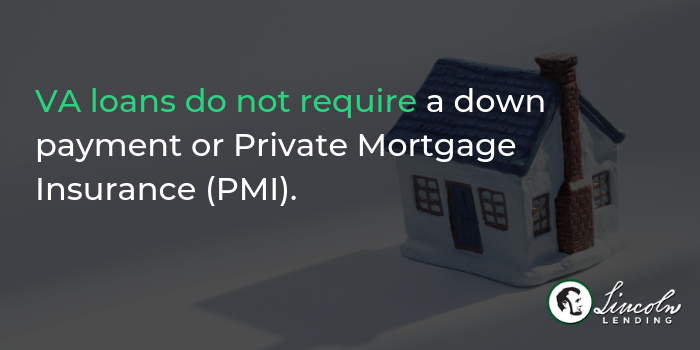 The Loan Process
Once you are prequalified, you can start shopping for your new home. This is often easier with a realtor. They have access to more homes than those appearing on the internet.
They help you put in an offer and ultimately get a contract on the house. Once you have a contract, you'll begin inspections, appraisal, etc. Be sure to get requested income and asset documents to your lender in a timely manner.
The VA process is similar to the other types of loans, but you must use a VA-approved appraiser. Your lender will help with this. VA appraisers estimate value but they also ensure Veterans are getting a good quality home.... safe, sanitary and structurally sound. Buying a home that requires few repairs will help the process go more smoothly.
Your lender and realtor should help you through every step of the process.
Rate and loan terms can be locked in by your lender. Most lenders can lock your rate in for up to 90 days. The normal lock timeframe is 30-60 days because most real estate transactions close within this time frame.
Rates and loan terms vary depending on the credit worthiness of the buyer, loan amount, etc., just like other loan programs. All things being equal, interest rates for VA home loans are typically better than most other programs.
Closing
Closing on a VA loan is slightly different than other loans.
There is no down payment required for a VA loan if you stay under the loan limit for your area. Of course, you can always make a down payment if you would like to lower your overall loan amount or monthly premiums.
A

Funding Fee

charged by the VA is added to the loan amount. You don't have to pay it out of pocket. The Funding Fee varies, depending on the Veteran's situation. Most first-time VA borrowers will pay 2.15% of purchase price. Disabled veterans are usually awarded a fee exemption and do not pay a funding fee. This will be indicated on the Certificate of Eligibility.
You may need a DD-214 if you have been discharged from military service. This is not always needed, but it is a good idea to find your DD-214 and get it to the lender just in case. If you do not have a copy, you can apply for one through the VA benefits portal https://vip.vba.va.gov/portal/web/userprofiling/html/registration/userRegHome.jspx.

Other Considerations
Don't prejudge your credit, time in service, job history, etc. Often veterans prejudge themselves and decide they don't think they will qualify and then don't even apply for a home loan.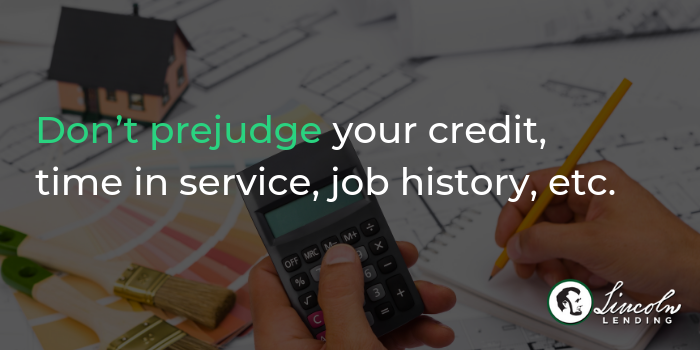 Let your lender look at your situation and see if you qualify. If you don't, they should be able to give you explain the reasons why, so you can work on getting yourself in a position to qualify in the future.
If you are turned down by a lender, ask why. Some lenders don't follow the 580 credit score rule and will impose higher standards. This means one lender may require a 680+ score, even though VA allows 580. That lender may turn you down when you could get a loan through another lender that honors the minimum VA requirements.
Meeting with your mortgage lender well in advance can help you plan for a smooth home buying process. While the lender can't give specific financial advice and every situation is different, your lender can serve as your "coach" to help you prepare. They will walk you through each step, help you determine the best loan options and ensure you are comfortable with the responsibilities of home ownership.
Lincoln Lending (NMLS 398026) has an experienced team who can talk with you about your plans and coach you through the process. They are glad to offer a no-cost, no-obligation information session to review your specific situation and the options available. To schedule a session, please call (405) 799-5363 or email us at Info@LincolnOK.com.