Do you know what's involved in a typical home inspection and how much it could cost? Home inspections provide powerful reports for homebuyers and sellers, so choosing the right inspector is essential. Like most things, the cheapest option may not be the best, but then again, the most expensive inspector may not be the right choice either.
Knowing what to expect with a home inspection and how to choose a qualified inspector will help you get the most out of the report.
What is a home inspection?
A home inspection is a process of examining the condition of a home. Most often, inspections are part of the homebuying process. Once a buyer and seller enter into a contract, an inspector will examine the house before the buyer moves forward with the home purchase.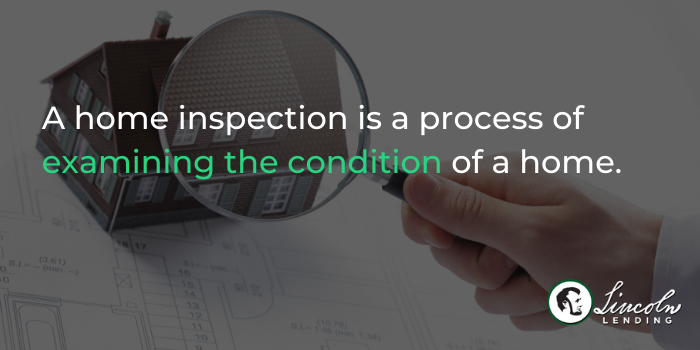 Unlike an appraiser, a home inspector does not place a value on the home. Instead, he or she creates a report detailing the condition of various systems and components of a home. According to the American Society of Home Inspectors, a qualified inspector will examine the following aspects of a house:
Heating system
Central air conditioning
Interior plumbing
Electrical systems
Roof
Attic, including insulation
Walls
Ceilings
Floors
Windows
Doors
Foundation
Basement
Structural components
After an inspection, the homeowner will receive a report about what the inspector found. You can't "fail" an inspection since the report simply describes the condition of the home. The report does not address the value of the house or its compliance with local codes. It does, however, point out any systems or components that need repairs.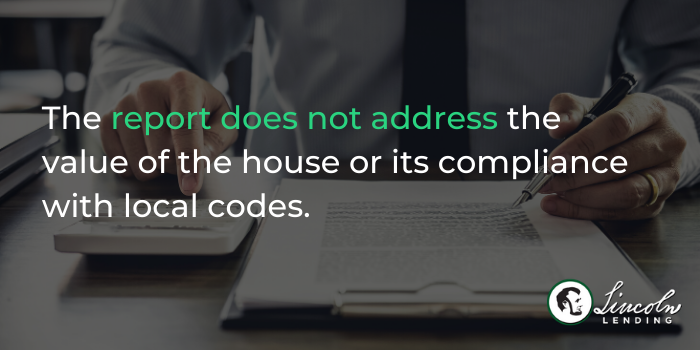 How to use an inspection report
No inspection report is spotless, but they are valuable to both homeowners and homebuyers.
If you're trying to sell your home, an inspection can identify possible repairs that you may want to make to help your home sell quicker. As a buyer, the inspection report provides information about the substantial investment you're about to make. It empowers you to either ask for repairs before closing, to know what problems may arise after you take ownership of the home, or to walk away if the home has major issues.
Finding the right home inspector
According to HomeAdvisor, the average cost of a home inspection in the US in 2019 was $200 - $400. The cost varies based on which US state the home is in and the size of the property. An inspection report is a powerful tool for homebuyers, so choosing the cheapest inspection may not get you the information that you really need to make a smart investment. On the other hand, paying top dollar does not always mean that the inspection will be better than a more affordable inspection.
For help selecting an inspector, consult your lender or realtor. They often have relationships with inspectors and may be able to suggest a trustworthy inspector who will provide a thorough, high-quality inspection.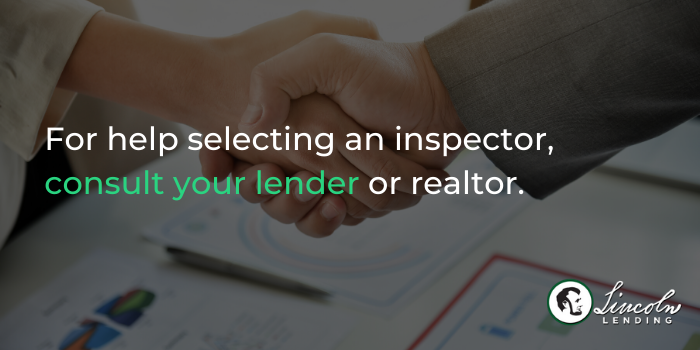 You may also want to inquire about what specific things are included in the inspection. Sometimes, square footage beyond a certain benchmark costs extra, as do inspections of septic tanks, wells, or crawl spaces. Each inspector charges differently, so make sure that you understand which items are "add-ons," if any, and what they cost above the base price.
Need a home loan coach?
Purchasing a home is a big decision. If you're struggling with how to navigate the process, get in touch with Lincoln Lending. While we can't offer specific advice, we can offer guidance and coaching to help you understand the process and get prepared. If you'd like to learn more, schedule a no-cost, no-obligation coaching session today.