You have explored your ideal neighborhoods and picked out the features you want in a home. But how much can you realistically afford to spend on your first home?
The basic rule of thumb is that your house payment should not be more than 25% of your income. Lenders prefer for you to stay around 30% of your gross monthly income on housing including utilities.
Also, think about your down payment, closing costs, and "prepaids."
The required minimum down payment varies but can be up to 5% of the purchase price. First-time home buyers may also be eligible for several programs to assist with down payments.

Closing costs and prepaids are out-of pocket expenses that you will be required to pay when you close on your new home. This includes inspections, appraisals, taxes, insurance, etc.

When looking at homes, consider not only what you can afford for a monthly payment, but what type of house you want and whether you plan to sell soon. For example, many people operate under the belief that you should buy the smallest or least expensive house in the area. The theory is that in the future you may have a hard time selling the most expensive property in the area when buyers can purchase a lower cost home in the same neighborhood.
This is not always the case, however. If you plan on living in a house for a long time, you can be more confident in choosing a more expensive home. The value will generally appreciate enough over time to be able to sell it for a reasonable price/profit later.
Want to make better decisions on the path to purchasing a home?
Download the Home Loan Toolkit now
We often encourage buyers to consider purchasing homes that are a little smaller or less expensive than you think you need. Then, you can use the extra money you are not spending on your mortgage each month to pay off debt and build up equity toward a bigger or more expensive home. Another tactic is - after the purchase of your second home - to use your first home as an investment property.
If you don't qualify for a home loan based on your own income or work history, you may consider the option of having a third party cosign your loan. There are advantages and disadvantages to the process of a using a co-signer:
Advantages – A cosigner may be helpful if your income is just short of what is needed for loan approval. For example, you may regularly get overtime pay at work, but that income does not count toward your loan approval unless you have a two-year history at that job. Having a cosigner could help you with loan approval in this situation. Or you may be approved for a larger or more expensive home than you could manage on your own. A co-borrower may also help with your debt-to-income ratio, which is vital in qualifying for a loan.

Disadvantages – The cosigner will technically & legally be part-owner of the home. This means you cannot sell it without the person's permission. The property could also count as an asset for the co-borrower if they are sued or file bankruptcy, so you would want to talk this over with an attorney. Late payments on your part can also affect the cosigner's credit, just as it would your own.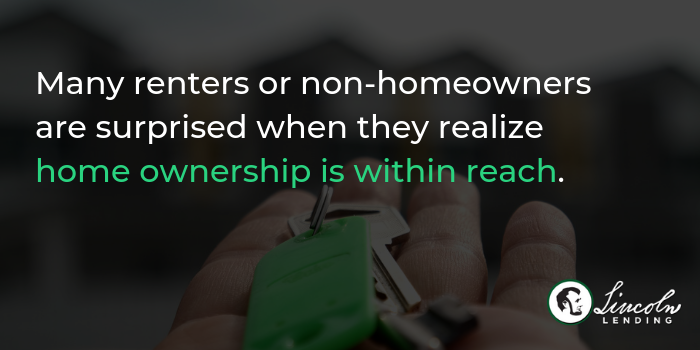 Many renters or non-homeowners are surprised when they realize home ownership is within reach. There are a variety of loan and down payment options to help first-time home buyers. Carefully planning your budget will help you feel confident in your home buying decision.
Lincoln Lending's team regularly meets with potential home buyers to discuss plans, often a year or two before they plan to make a purchase. This no-cost, no obligation meeting can address your budget, potential expenses and the price range to consider when beginning your home search. While Lincoln Lending (NMLS # 398026) cannot legally give financial advice, we can discuss the home loan options that are best for your specific situation. Please call us at (405) 799-5363 or email us at info@lincolnok.com to schedule a time to meet & discuss your options.