You are thinking about buying a home and getting a VA home loan. What are the steps involved? How much time should you allow for the home buying process?
Step 1 - Initial Meeting with Lender
The first step in buying a home is getting pre-qualified with a lender. Even if you are not planning on buying a home for a couple of years, it is never too early to make a plan.
First, talk with your lender and fill out a loan application. This can be done by scheduling an in-person meeting, phone call, filling out an online application or a combination of the three. In-person meetings are often best for first-time home buyers. It is easier to get all your questions answered.
The lender will discuss your

credit/credit score

,

debt to income ratio

, costs,

down payment

, loan options, etc.
Generally, a person can be

prequalified

within an hour or so, although it may take longer in certain situations. For example, self-employed borrowers may take longer because the lender has to look at tax returns to calculate income.
If applying for a Veteran's Administration (VA) loan, you'll want to get a

Certificate of Eligibility

. This is a confirmation from the Veteran's Administration that the borrower has met the minimum requirements for VA loan eligibility. Your lender can help with this. To learn more, please go to https://www.benefits.va.gov/homeloans/purchaseco_certificate.asp.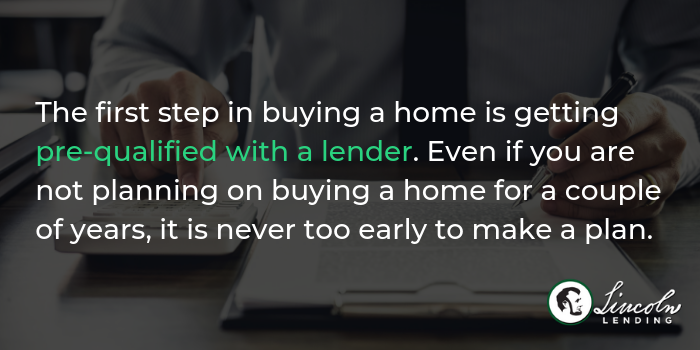 Step 2 - The Home Search
You can search for homes online, driving around a desired neighborhood or using a trusted realtor in your area.
Realtors have access to more homes than you can find on the internet or by simply driving around. They access the Multiple Listing Service (MLS) and help buyers find the right home for their needs.
Also, the seller generally pays all realtor commissions out of the proceeds of the sale of the home. The buyer shouldn't have to pay the realtor directly for helping find the home. Your realtor will get a commission from the seller after the fact.
The VA has specific standards for home appraisals. Lenders hire VA-approved appraisers to make sure the home is worth the asking price and ensure it meets the VA's Minimum Property Requirements (MPRs). Buying a home that is move-in ready and requires few fixes will help the process go faster and smoother.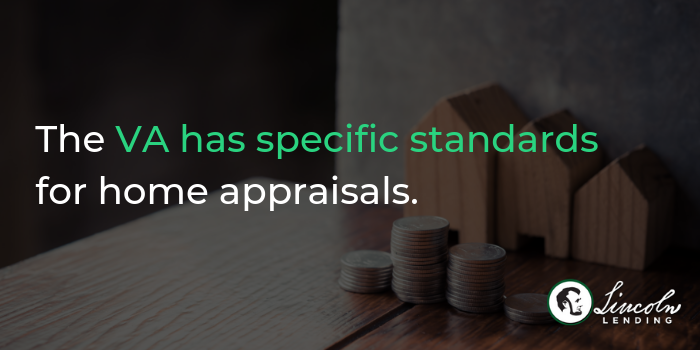 Step 3 - After You've Found a Home
Your realtor will help you make an offer on the home. The offer outlines the purchase price and other stipulations. If the seller accepts your offer, you have a contract! This process usually takes a few days.
Then your realtor works with you to schedule home inspections. Most lenders require pest/termite inspections, but do not require a home inspection. But home inspections are recommended by nearly everyone in the industry. They help protect buyer from purchasing a home with hidden problems. The inspection timeline is usually about 10 days.
If inspections go well, the next step is ordering the appraisal. Your lender does this for you. Most appraisals are completed within about 10 days. They verify value and that home meets VA's Minimum Property Requirements (MPRs) in terms of safety, sanitation and structural integrity. In general, the home must have a working heating system, safe water quality, structurally sound roof, no mold problems and a safe, working electrical system. They also check for smaller safety items, like handrails on stairs and broken windows.
Your lender will ask for a number of documents to finalize your loan and prepare for closing. The faster you get the lender your documents (paystubs, tax returns, etc.), the faster you can move toward closing. The biggest slowdown is often the buyer procrastinating in getting documents to the lender.
Step 4 - Closing
Finally, it's time to "close" on your home. This is when you officially transfer ownership of the house.
On closing day, all parties involved meet at the title company to review and sign papers that explain the mortgage, note and other documents. The closing process on a VA loan will be about the same as with any other loan. However, you will likely not need as much cash at closing since there will be no down payment required.
While every situation is different, buying a home usually takes around 30 to 45 days.
Start planning a home purchase well in advance. The process takes time, so it helps to do much of your preplanning before you even start your home search.
While Lincoln Lending (NMLS 398026) cannot give financial advice, our lending experts have years of experience in helping clients work through the step-by-step process and timeline of buying their first homes. We would be happy to schedule a no-cost, no-obligation information session to review your specific situation and options available. Please call us at (405) 799-5363 or email us at info@LincolnOK.com. to schedule a time to discuss your home purchase options.