You have been thinking about buying your first home and have determined how much you can afford. Your apartment or rental house lease is due for its upcoming renewal. How much time should you allow for the home-buying process?
First of all, it is never too early to meet with a lender to discuss your options. If you think you may want to buy a home in the next couple of years, then now is the right time to meet with a lender. These information sessions will help you get ready for a home purchase in many ways. If there are negative issues with your credit, or if you want to save more for a down payment, this early planning can help you prepare.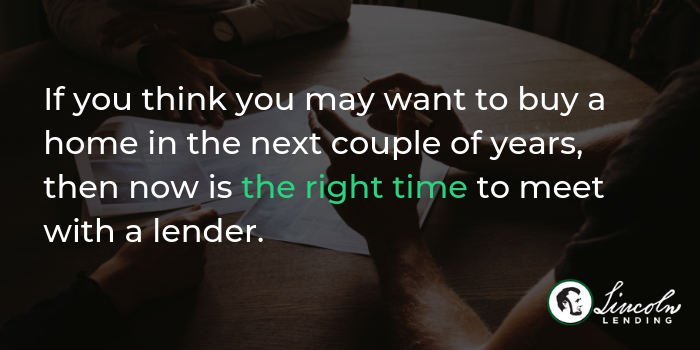 This initial meeting can also be used to help you in prequalifying for a loan. This involves giving a lender the necessary information to determine if you will likely be approved for the loan. You can meet with the lender in person or by phone, or complete an online loan application. They will need basic information including your legal name, social security number, birthdate, two-year work history, two-year residence information, and assets (savings, investments, etc.). They will also need your consent & authorization to check your credit.
Ready to get started on purchasing a home?
Click here to Speak with a Home Loan Specialist
The Importance of Preapproval
Preapproval is important in helping a realtor and potential seller realize that you are serious about buying a home. It shows that you have met the basic criteria to qualify for a home loan, and you can be confident in what you can afford.
Once you are pre-approved for a certain loan amount, you can search for homes in a variety of ways. Online searches through organizations like Zillow.com or Realtor.com can help you find houses in your price range and desired neighborhood or part of town. Local realtors subscribe to the Multiple Listings Service (MLS) and often have access to even more homes for sale in your area. They can help you look at specific homes by scheduling showings. If you don't know a realtor, most lenders will be more than willing to give you names of a few with whom they have worked in the past. Most buyer's realtors don't charge an up-front fee, but are usually paid with commissions from the seller. If you meet with a realtor, feel free to ask how they are paid so you don't have any surprises later on in the process.
If your current lease will be up soon, do not wait until the last minute. The average home purchase process, from start to finish, is generally going to take 45 to 60 days, depending on how long it takes to find the house with which you want to move forward. Your realtor will help you through the process, but it involves multiple steps and unforeseen delays can happen.
Expect your lender to need at least 30 days. Give them what they ask for in a timely manner to meet lending regulations. If you have a complicated situation, allow more time.

Make a contingency plan in case you cannot find a house before your lease is up. It might be the case that you need to live with a family member or arrange for a month-to-month rental option. Lenders and realtors will help you along the way and can keep you updated if it looks like there could be a delay.

Spring and summer are the busiest times of the year and some lenders will experience delays because underwriters, appraisers, inspectors and others involved will have full schedules.
When you have chosen your new home, your realtor will begin working on the contracts and closing process. The target closing date is written into the contract, but this date can change as you move through the buying process.
You will need to allow time for a series of home inspections and an appraisal, and the underwriter will ask for additional documentation needed to give final approval on your loan. When all the information is collected and the loan approved, a closing date and time will be finalized.
The timing can also change based on the current homeowner's ability to move. It's generally best for the existing homeowner to be moved out before you close on the home. Once you sign the papers, you are owner of the house and liable for anything that might happen. Sometimes the seller will allow the buyer to move in before closing, but this is a liability risk for the seller. The Federal Housing Administration (FHA) does not allow this unless you have at least a 15% down payment or move in 6 months early, such as in a tenant / landlord situation.
Remember, the buyer is the only one in this transaction that is spending money. Everyone else is making money by getting a commission or by selling their home. Do not let anyone push you into making a decision that is not right for you. They should be willing to work to meet YOUR needs.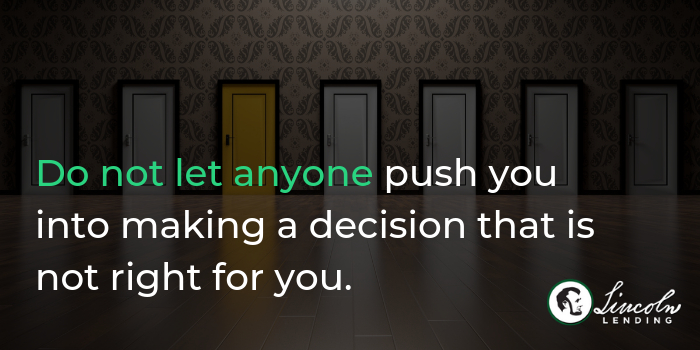 Start planning a home purchase well in advance. The process takes time, so it helps to do much of your preplanning before you even start your home search. We've heard many stories of people who had lease conflicts because they were not able to close on a home and move before their current lease expired.
While Lincoln Lending (NMLS # 398026) cannot legally give financial advice, our lending experts have years of experience in helping clients work through the step-by-step process and timeline of buying their first homes. We would be happy to schedule a no-cost, no-obligation meeting to review your specific situation and options available to you. Please call us at (405) 799-5363 or email us at info@lincolnok.com to schedule a time to discuss your home purchase options.