Are you struggling to find and afford decent, safe, sanitary housing? If so, then you may be eligible for a USDA Rural Development loan. Qualification depends upon the area where you live, and there are also income limits.
In this article, we'll share who is eligible, the benefits of a Rural Development loan, and how borrowers can use the loan money.
What is a USDA Rural Development Loan?
The United States Department of Agriculture offers a Rural Development loan program that "assists lenders in providing low- and moderate-income households the opportunity to own adequate, modest, decent, safe and sanitary dwellings as their primary residence in eligible rural areas." In 2017, the USDA helped 127,000 families buy or repair their homes, and yet, many eligible Americans still don't know that the program exists.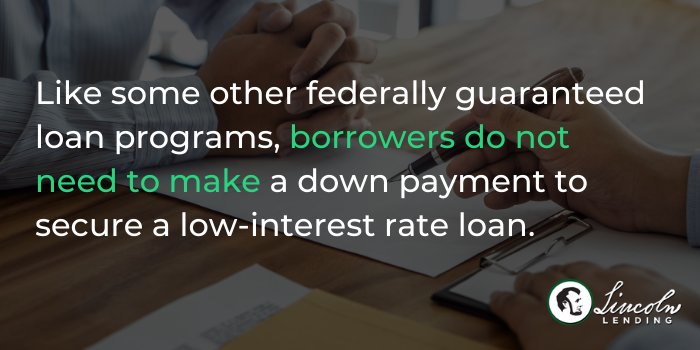 Like some other federally guaranteed loan programs, borrowers do not need to make a down payment to secure a low-interest rate loan. If the borrower chooses to, he or she can make a down payment, but lenders do not require it.
How Does it Work?
Just like VA and FHA loans, the government guarantees Rural Development loans, and borrowers aren't required to make a down payment. The guarantee protects home loan lenders from borrowers who may default on their mortgage payments.
Rural Development loans borrowers may have to pay a mortgage insurance premium in addition to their monthly mortgage payments. The borrower pays the monthly premium, but the insurance coverage actually protects the lender. Should the borrower default on the loan, the mortgage insurance would pay the lender a portion of the loan principal.
Borrowers can use the USDA loan money to purchase a home or to remodel, repair, or upgrade their existing primary residence.
Rural Development Eligible Areas
The USDA Rural Development loans are available to those who live in rural areas. Residents of metro areas are not typically eligible for the program, but it is possible to find small pockets of eligibility in suburban areas. Visit the USDA site to see if you live in an eligible area.
Usually, eligible homes have 2000 square feet of living space or less. The maximum dollar amount of the loan varies based on an applicant's geography because it accounts for the area's cost of living. For example, people living in California may qualify for a loan up to $500,000 because the cost of living is high, while those in more affordable midwestern areas may qualify for a maximum of $100,000 of loan money.
Who Can Apply?
Contrary to popular belief, you do NOT have to be a rancher or a farmer to take advantage of the USDA Rural Development loans. Eligibility is based on location and income, not occupation.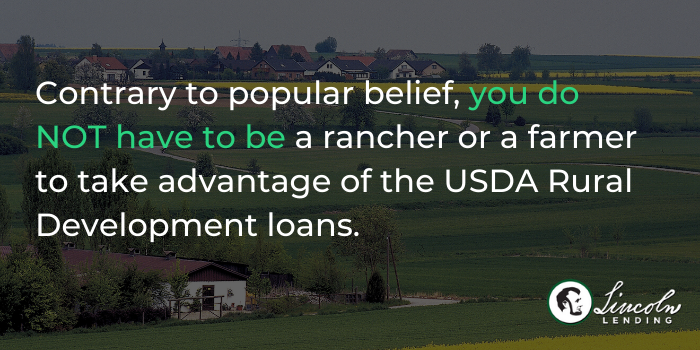 USDA Rural Development loan applicants usually have to meet income eligibility requirements, which vary based on geography and household size. Applicants must reside in the home as their primary residence. US citizens, non-citizen nationals, or Qualified Aliens may apply for the loan.
Lenders can help a borrower determine the size of loan for which he or she is eligible based on his or her location and financial ability. In most cases, a borrower's monthly mortgage payment (which includes the principal, interest, insurance, and taxes) should be no more than 29% of his or her monthly income. Usually, the borrower's total outstanding debt obligations should not be more than 41% of his or her income unless the borrower has a credit score of 680 or higher.
Applicants with a credit score of 640 or better will often be approved for the USDA loan more quickly than those with lower credit scores. Anyone with a score of 640 or less may require more strict underwriting, so loan approval may take longer. If you do not have a credit history, you may still be able to qualify with a "non-traditional" credit reference that includes your utility or rental payment history.
Not all rural residents are candidates for a USDA home loan. Prospective borrowers usually need a history of dependable income for a minimum of 24 months before applying for a loan. Many lenders also require that the borrower has not had any debts sent to a collection agency for 12 months before applying for a loan.
How Can You Use the Funds?
Borrowers can use the loan funds to purchase a new or existing property, as long as it is his or her primary residence. The loan money can also be used to help the borrower pay closing costs or other reasonable expenses associated with a typical home sale. Borrowers can even use it for pro rata real estate taxes at closing, plus their hazard and flood insurance premiums.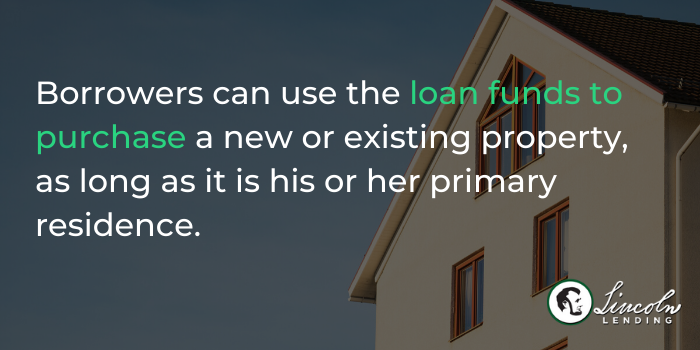 The monies can also be used on any of the following:
Repairs or renovations of an existing dwelling
Refinancing eligible loans
Specially designed features or equipment to accommodate a household member who has a disability
Reasonable fees to reconnect utilities (water, sewer, gas, electrical), as well as pro rata installment costs
Essential household equipment, such as carpet, oven, refrigerator, washer, dryer, or HVAC equipment
Site prep on a new home build – seeding or sod, grading the building site, fences, or driveway
Are You Ready to Improve Your Housing?
If you think that you may be eligible for a USDA Rural Development home loan, get in touch with an approved lender, such as Lincoln Lending. Give us a call or email us at info@lincolnok.com to schedule a no-cost, no-commitment information session to review your eligibility.