Your business is finally thriving after all of the years of hard work. Now, you're ready to reward yourself by moving to that dream home that better fits your lifestyle. However, transitioning between homes takes some planning. Do you know your options?
Interested in saving time and money on your home loans?
1. Sell Your Current Home and Close on New Home Simultaneously
Most people try to sell their current home while they are buying a new home. If their timing is right, they can close both deals on the same day.
Most homebuyers need to use the equity they have in their old home for the down payment on a new one. The closing is generally set up so you will sell your old home a few hours before signing the paperwork on the purchase of your new home.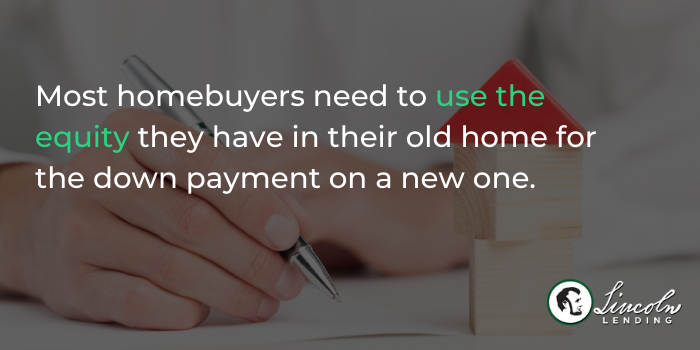 2. Sell Your Current Home Before Buying the New Home
There are a variety of reasons why people would sell their current home before buying a new one. For example, sometimes a person's home sells more quickly than they expected. Alternatively, you may need to quickly move to a new area for a job opportunity. One other reason may be that the owners of your new home need some extra time before moving out, maybe to allow their kids to finish the school year.
In these instances, customers may live with family or friends or rent a house or apartment until they find their new home.
Sometimes buyers may be planning to sell and buy on the same day, but the purchase can fall through due to inspection or appraisal problems on the new home. If that happens, homebuyers would need to decide whether to finalize the sale of their current home or put it off. The added burden of finding a place to live in the meantime may hold up the sale of their existing property.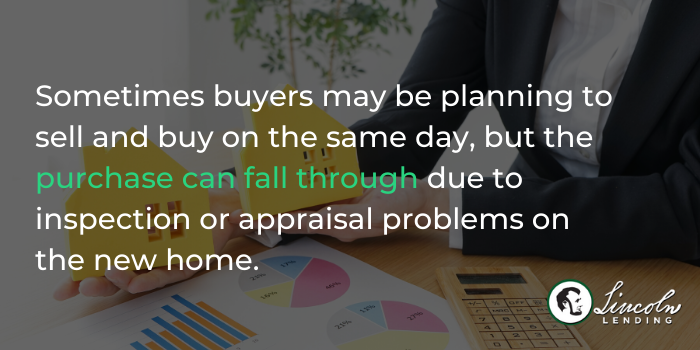 Schedules for new home construction can change quickly due to weather or builder delays. Sometimes people need to go ahead and sell their current home and find a place to live until the new house is ready.
3. Keep It a Little Longer for Convenience
When people have a low debt-to-income ratio, they may choose to buy a new home and keep their old home a little longer so that they don't have to rush their move as much. Other homebuyers may have repairs or renovations planned for the new home, in which case they may stay in their current home until the new one is ready.
As a business owner, your debt-to-income ratio is an essential piece of qualifying for a home loan. If you write off too many business expenses, it'll lower your income and make it difficult for you to qualify for a loan large enough to own two homes at once.
4. Keep It as an Investment Property
Investment properties can impact your debt-to-income ratio. If you keep your current home as an investment property, you can offset your monthly payment with the rental income.
You can use a new rental agreement and with most loan programs you would be able to use 75% of the rental amount as income. Some programs require an appraisal that shows the "market rent" for that area and type of home, and you can use 75% of that amount as income. Your mortgage lender can calculate options and help you with the information you need to make a good decision.
Being a landlord isn't always as easy as people think it will be. If you want an investment property without the landlord duties, then we recommend that you hire a property management company. There's an expense associated with using property managers, but you typically have little to no involvement with the day-to-day operations of the rental property. Sharing the burden with a property management company means fewer headaches and distractions from your primary business.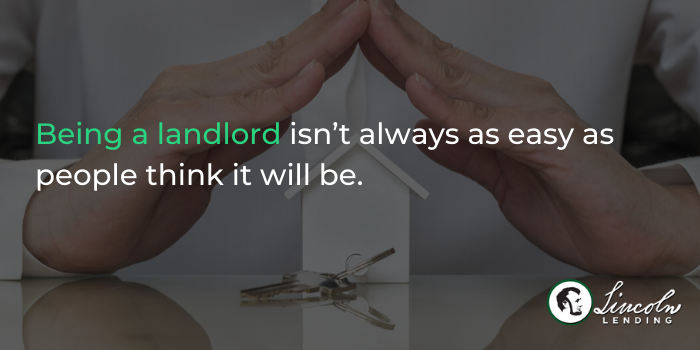 Is it Time to Purchase a New Home?
You've worked hard to build a thriving business, and now may be the right time for you to purchase a home. However, getting into your dream home takes some thoughtful planning.

While a lender can't give you specific financial advice, he or she can coach you on what to consider in the home purchase timeline. Lincoln Lending's team (NMLS 398026) offers a no-cost, no-obligation coaching session to review your options. To schedule a meeting, please call (405) 799-5363 or email us at Info@LincolnOK.com.